GENE HAMILTON – OWNER AND FOUNDER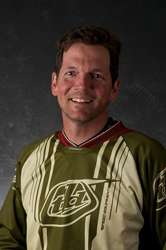 Gene Hamilton – President and Founder
D.O.B: April 20, 1966
Hometown: Montgomery, AL
Resides: Morrison, CO
Favorite Trail: If I told you they would kill me
iPod: Hank III, Split Lip Rayfield
Gene's love affair with anything and everything two wheeled started when he was six and he got his first purple, banana seat bike for Christmas. It has been quite a journey since and he certainly never thought he would make a living on two wheels. Although he started riding bikes when he was quite young he struggled at most sports and was not what anyone would call a natural athlete. He has been teased about his funny walk since he was a kid and never came close to passing the "Presidential Fitness Test" in school. Growing up fast (6 feet tall in the 7th grade) he wasn't the most graceful kid and his asthma didn't help. Despite never even winning a "novice" class race he was at the BMX track racing every Sunday for two years in his teens.
In the spring of 1987, just a few months after learning to ride Gene competed in the Snowboard World Championships where he finished 20th in the amateur half-pipe competition. Following that season he moved back to Virginia to finish college but continued competing on the East coast. After graduating from Old Dominion University in 1989 Gene accepted the position of Director of Snowboarding at Wisp Resort in Maryland. While at Wisp he continued to snowboard professionally and was the coach of the race team. During the next five years Gene chose to move back to Colorado and train with Team Breckenridge and Team Tiehack in Aspen. These were Gene's first years being coached and it had a profound effect on his future. He learned that coaching is not just about skills but in helping people feel confident and keeping them motivated. In 1993 Gene did his first mountain bike race and was hooked. He raced the following two years as an amateur before turning pro (downhill) in 1995.
In the fall of 1996 he accepted the Head Snowboard Coaching position at the Steamboat Winter Sports Club. This was his dream job and really enjoyed seeing the kids that he coached grow and become more confident. Part of his job was to stay on top of the sport and become the best coach he could be, he got paid to take coaching courses! USA Skiing and Snowboarding had an amazing coaching staff and Gene took full advantage of the courses they offered. The next three years were spent coaching snowboarding in the winter and racing mountain bikes in the summer. After nearly 10 years of spending the winter living in ski towns Gene tired of the cold and moved to the warmer climes of Boulder, Colorado in the fall of 1998.
BetterRide was founded that fall and it has been quite an adventure over the last 10 years. Gene has coached over 1,200 riders from beginners to top pro racers, filmed a special for the Discovery Channel, written mental training articles for Dirt Rag, been featured in The New York Times, Decline Magazine, Mountain Bike Action and USA Today. Over the years his passion for coaching has continued to grow and he continues to learn and improve his coaching with every session taught. His mountain bike coaching highlights include coaching many top pro racers, top junior experts and over a 1000 riders who just want to get better. He is a pretty good racer too, in 13 seasons as a pro racer he has won a Silver (2002) and two Bronze Medals (2006, 1999) at the UCI World Masters Championships.
ANDY WINOHRADSKY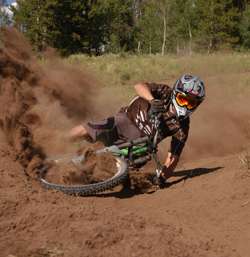 Andy Winohradsky – Head Coach
D.O.B: Feb 18, 1973
Hometown: Somewhere in Southeast Michigan
Resides: Denver, CO
iPod:The Eye Balls
Favorite Trail: The one he is riding
Andy has been working for BetterRide for the past four years. In that time Gene has taught Andy the BetterRide way of coaching and Andy has taught Gene a lot about riding bikes!
In Andy's words: I grew up in Michigan on a steady diet of bmx bikes and dirtbike motorcycles. Although, there were a few years where I did compete quite a bit at the local sanctioned bmx and motocross races, with a decent amount of success a good chunk of my riding (the best and most valuable part, I'll say) was spent just being a kid and screwing around on two wheels with my buddies: backyard bmx tracks, suicide ditch jumps, hill-bombing, blasting powerlines and jeep roads, terrorizing abandoned local gravel-pits… those were, as they say,"the days!"
In high school it was all about stick-and-ball sports. Then, during the summer before my freshman year of college, while getting in shape in an attempt to minimize the ass-whipping I was about to receive in my first year of college wrestling , I found myself on an early version of the MTB and back out on all the old trails and jeep roads, hill-bombs, and gravel-pits. And that shit was fun.
Pretty soon wrestling was more about keeping me in shape for the summer race season and then, not long after that there was only racing. In 1997, as soon as I was finished with school, I turned pro and moved to Colorado to see how far I could take the racing thing and to have a good time doing it. In the next five or so years, I consistently put up good results locally including a few race wins here and there and a dual slalom series championship. At the National races I consistently got my ass handed to me and went broke doing it. But I had my moments: in those days gated racing was done in the good ol' dual slalom format, and most of the time I could make the cut for the big show, Saturday-night-under-the-lights, with ESPN, smoke machines, crazy announcers, and a big-time party, early-MTB-days style. Brian Lopes or Eric Carter or Mike King would usually put me out after the first round, but hey, I was there!
Around 2002, I slipped out of racing to go do other things that made equally as little sense as trying to make it racing downhill mountain bikes. Such as, being a pro photographer, random spontaneous traveling, and playing music. But, I never stopped riding. Motocross, a ton of dirt jumping and of course, lots of XC were constants. Around 2007 I got back on a DH bike and found out I hadn't lost much speed. The next year I worked full-time at Sol Vista, raced for their team, and proved to myself that, even as an old man, I could still hang in the pro class and still had the courage to get knocked unconscious on huge jumps.
My racing days may be fairly limited from here on out, but I continue to learn and progress as a rider. Surprisingly, more now then at any other time in my life. And I still love riding as much, if not more, then when I was a kid screwing around in the sticks of Michigan.
Who knows, maybe there still is a podium or two in my future? Look out Old Guy's Class!
DYLAN RENN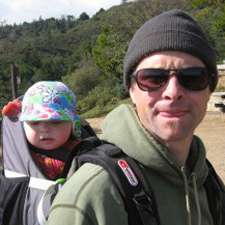 Dylan Renn – Certified Coach
D.O.B: September 4, 1977
Home County: Calaveras, CA
Resides: Woodacre, CA
Music: Primus, Hilltop Hoods, Salmonella Dub, Deadmau5
Favorite Trail: Oddenn to The Ring And LOKI
Growing up in the Sierra Nevada mountains meant learning to ride a bike with training wheels on a dirt road. With the rough pot holed roads and technical terrain the training wheels were forced to come off quick. It was at that point as a young kid that I fell in love with riding. Living in a fairly remote mountain community I spent endless hours entertaining myself by exploring every nook and cranny of my back woods via bike.
After those first years of riding 20" bikes I moved on to a geared 24". I worked at a bike shop when I was 12 years old, saved all my money and purchased my first mountain bike.
It was a full rigid with toe clips and of course, a neon color scheme. It was all DOWNHILL after that.
My athletic history started with having to ski in and out of my house to get to and from school. From there I started to compete in Nordic ski races in the winter and cross country running in the summer. Through High school I raced in both disciplines. My favorite and strongest event was the Biathlon, which I had a ranking of seventh in the nation.
Some time during High School I found out about gravity, started Telemark skiing, and began racing Downhill mountain biking. I competed in DH as an expert until around 2000, then upgraded to Semi-Pro. Upgraded to Pro in 2008, and slowly phased away from racing due to a few injuries and a growing family. I am planning to race again.
I have worked coaching Alpine Skiing DEVO (development) Team and also as a Nordic ski Instructor. Right now I work as a mechanic at a local Bike Shop, and build trails in my free time for both work and leisure. Oh yeah , saving best for last, I expend much of my energy and time chasing after my 1 year old Daughter, Naia.
SUE HAYWOOD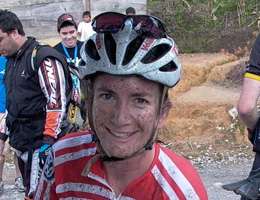 Sue Haywood – Certified Coach, Mountain Bike Racing Legend
Sue started riding mountain bikes in the wild woods of West Virginia in 1991. She did her first beginner race that year, finishing second, out of two in the beginner class. Even though she was not very good, she enjoyed it. She went on to race the West Virginia Series (WMBA) for the next seven years and eventually turned pro in 1998. In 1999, she became a member of the Trek/Volkswagon Racing Team with distinguished teammates like, Alison Sydor, Roland Greene, Travis Browne and Wade Bootes. Her career highlights include, 3 Short Track National Championships, A Super D National Championship, 2 World Cup Podiums, 1 24hr Solo World Championship, Winner of La Ruta, Trans Rockies, Pisgah Mt. Stage Race and the Shenandoah 100.
She now considers herself a recreational pro, dabbing in select races that she thinks are cool and special. She brings to BetterRide, years of racing along with training and teaching experience. She loves to ride big rocks and wet roots on an epic day. But, She also loves seeing students gain confidence in their riding abilities and having lots of fun learning new skills.
JEFF FERRELL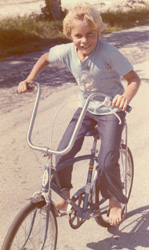 Jeff Ferrell – Certified Coach
D.O.B: 1965
Resides: Bend, OR.
Favorite Trail: So far, the McKenzie River Trail. North Fork, Happy Valley, Flagline area in Bend is pretty sweet riding.
Ipod: If I owned one, rock from AC/DC to Zeppelin.
I grew up in South Florida and my first new bike was a Schwinn Stingray, I got for Christmas in 1971. I outgrew that bike and terrorized the urban strip malls and neighborhoods on homemade bmx bikes and skateboards. It was different back then as we went everywhere on our bikes and boards, our parents never dropped us off at football practice or the movies. Once cars and driving came into the picture the bikes and skateboards sadly went away. Fast forward to 2005, we moved to Bend and one of my very first purchases was a 05 Giant Trance 2 and mountain biking has been my thing since. I got fairly good from riding a lot but it wasn't until I took a BetterRide camp and got hooked in with James Wilson that things really progressed for me and became a true student of the sport. When Gene offered to be a coach for him locally I jumped at the opportunity and have had a blast. I ride on a regular basis with people I've coached and I love seeing how fast they progress with the proper skills and knowledge. I would say my current style is trail to light all mountain riding, I pedal up everything I go down, I enjoy the challenge of climbing but I really look forward to descending. I've also been in the construction industry for 23 years.
DON BOGARDUS
Don Bogardus is a recreational rider based in Salt Lake City, Utah. Don has been coaching with BetterRide since 2009, and has received stellar reviews for his work leading clinics and private lessons. Over the last 15 years, Don has grown from a casual rider into an aggressive descender and gifted technical rider. If you're looking to make a similar transition, or to simply enjoy your saddle time more, Don would love to help. After biking, Don's second love is technology. When he's not on the trail you'll find him at Overstock.com working as a Software Development Team Lead.
DANTE AND JACKIE HARMONY
Dante Harmony and Jackie Harmony – Certified Coaches
Team Harmony's mission is to ride, race and share our love for two wheels with people from all walks of life and all skill levels. Each year we strive to push the boundaries of what is possible on our bikes and in our sport. Jacqueline is closer than ever to her goal of World Champion this year by focusing solely on downhill racing at the the most prestigious races the world over. Dante is close on her heels with a full commitment to improving his race finishes and garnering enough UCI points to compete at the World Cup races and World Champs in Champery. Dante and Jacqueline have both been trained and certified as "Better Ride" Coaches in order to teach basic bike handling skills to riders, which will translate into a better bike riding experience.
Whenever, wherever, from backyard pump tracks, to prestigious World Cups and everything in between, we are always looking towards the next riding experience and meeting new people. We created this website to keep our friends, family and fans in the loop and up to date with our travels and experiences while on the road and on the trail.
Jackie, 2012 U.S. Pro Downhill World Champion -I have been riding mountain bikes since 2000 and started racing cross-country in 2001. After a year of racing cross-country I fell in love with Downhill Mountain biking and started racing in 2002. From 2002 to 2003 I raced expert and pro, when I didn't need a license to race. In 2004, I upgraded to Pro, but right before the season started I crashed off of a jump and completely tore my ACL, tore my MCL and messed up some meniscus. I was out for the season. In 2005 I got my Pro upgrade and have been racing pro ever since. In 2006, I had my first taste of international racing at the World Championships in New Zealand. Since then I have been fortunate enough to have competed against the best in the world at multiple World Cup events, Mega Avalanche and World Champs again this year. It still feels funny when I tell people I'm the 18th fastest girl in the world. When I am not racing I am off doing something adventurous. A few of those things are skydiving, dirt biking, riding cross-country and hitting up my pump track. This past year I have raced in a Hare Scramble and Grand Prix Dirt bike race and can't wait to race some more.
Dante Harmony – Born and raised in Tucson, Arizona, I was introduced to two wheeled mayhem by my grandpa, who used to race in the Hare Scramble dirt bike races. I eventually got my first 20" BMX bike and along with my brothers, started to terrorize the neighborhoods and trails. During High School I finally saved up enough cash to afford a dirt bike of my own and that started my addiction to the adrenaline and competitive nature of racing. I love to share my passion for being outdoors and riding bikes and hope to inspire people to give up their day jobs in pursuit of their dreams.
CHIP MacCLAREN
I got my start in mountain biking when I got my first bicycle at the age of 5, (Of course mountain biking hadn't been invented yet). Living in Miami, it was hard to find anything resembling a mountain, so I had to get a bike with a motor to get that go-fast feeling that I was craving. As an only child, my parents, who were both mechanics, had a plan to keep me away from the Miami drug scene, they decided I'd race motocross. They kept Me busy traveling all over the east coast racing my motorcycle. If we weren't racing or riding, we were wrenching on bikes.
After a fun-filled and exciting amateur career in motocross which included a couple separated shoulders, a broken collar bone and a few other scars, my in racing career ended at the ripe ole age of 22 when I got a job that required I remain uninjured. That's when my racing buddies and I started doing triathlons. Triathlons were fun except the swimming and running. This is why cycling came back into my life. In 1991, I continued my career in Colorado. Then, I found mountains and mountain biking.
I've been riding for 25 years. I prefer riding mountain bikes, but I also ride road bikes as well. My vacations are generally road trips so I can travel with my bikes, my two lab mixes, Mogul and Cali and my wife.
I've taken my bikes and family to ride places like: Lake Tahoe, Mt Hood, San Diego, Fruita, Moab, and Whistler. My favorite place to ride is Bend, OR where I'd like to retire to as soon as possible. In the off season I ski, snowboard, teach skiing for the disabled and eat.
Reviews from Chip's students:
Just finished a 3 day camp in San Diego with Chip. Absolutely the best coaching\instruction I've ever had. Thank you Gene for what you do and for having Chip as part of your team.
The money spent on this camp with Chip is the best "up grade" I've ever invested in for my Mtn. Bike obsession.
Doug Williams on the BetterRide facebook page, May 20, 2012
I too just finished the San Diego camp. Big kudos to your boy Chip. He was motivating and made the learning fun. Money well spent. I look forward to practicing this new knowledge. First thing is to change my Facebook mtn biking pics, my chest is way too high.
Thanks Again.
- Scott Cartwright, on the BetterRide facebook page, May 21, 2012
CHRIS CORNELISON
I was first introduced to mountain biking as a teenager on summer trips in the mountains of Colorado. I have been racing mountain bikes and cyclocross at the masters level for the last three years, and I am a level 3 certified USA cycling coach. As a member of my local team's coaching staff, I help to introduce riders to mountain biking and mountain bike racing. I most enjoy helping other riders to share in the fun that comes from getting better at our sport.
JOE DONDERO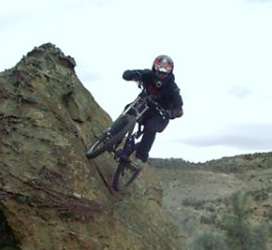 Joe Dondero – Certified Coach, BMX Track Operator, Bike Shop Owner, FreeRider
D.O.B: May 22, 1967
Hometown: USA
Resides: Caldwell, ID
Favorite Trail: The one that goes down
ipod: gwar!!
I grew up on old school skateboards, bmx and motocross predating some of the terms used today like, ollie, freeride and x up. Most of my childhood was spent living in small mountain towns where we created good, competitive, fun on bikes. Downhill racing our schwinn 20″s down 10 mile dirt road descents (again predating the term downhill racing) or spending the day pushing up game trails just to bomb back down them crashing and breaking bikes and bones but, it was so much fun.
Things got a little more serious in the early 90s when I got my first Univega custom build. Then the race was on, winning a few and losing a few more but, always breaking my bikes. At that time I couldn't afford the mountain bike racer's lifestyle and had to ease off the hardcore mountain biking and just rode bmx for fun. It wasn't until early 2000 that I was able to get back into mountain biking, and just in time. The bike technology now supports an aggressive rider like me and I don't brake bikes as much anymore.
For the last 7 years I've been freeriding and downhilling year round (when I'm not broken). I'm also the track operator at the local bmx track, where I get my bmx race fix a few times a year as well as the opportunity to coach some great, young riders. It's my pleasure to see the progress kids, young and old, make when they are dedicated. I love to teach and I love to learn. I'm constantly reading and studying the sport. I am ready to pass on all that I've taken in. I like mountaineering, peak bagging, backpacking, camping, canoeing, snowboarding, I LOVE to freeride/downhill and everything thing that goes with it. Ill be the first to admit that you might be able to beat me to the top but I'm tough to catch going down
ANDREW SHABBO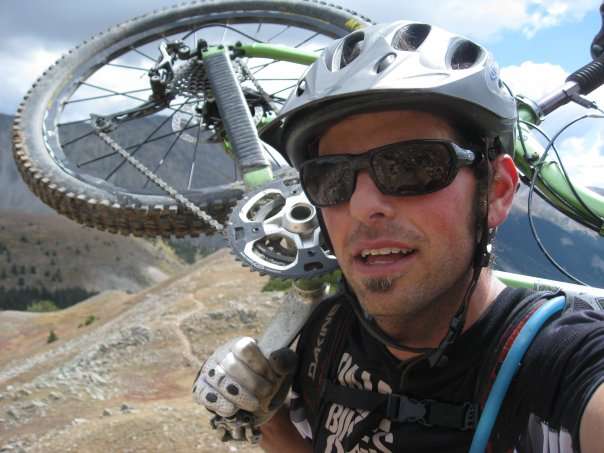 Andrew Shabbo
D.O.B: January 2, 1976
Home County: Westwood, MA
Resides: Crested Butte, CO
Music: Everything from Beastie Boys, to Slayer, to Jay-Z
Favorite Trail: The Whole Enchilada in Moab, UT
My love for everything bike related established at an early age in the suburbs of Boston, MA. I went from BMX track to BMX track, though by the time I had hit 6th grade most of the tracks were going under. After destroying a few wheels on an old road bike it was then my mom helped me buy my first mountain bike. I biked recreationally for several years and then made my move to Crested Butte, CO in 1996 where my passion for mountain biking and vintage bicycles amplified. My collection of bikes is almost hoarder-status as I believe you should never say no to giving a bike a good home.
I competed in downhill racing in the Mountain State Cup Series for 3 years with some decent results as the crew of Monkeys and I always had the most fun. In 2006 I partnered up to open a local bike shop. I moved on from the shop in the spring of 2011. I wanted to a find a different way to promote mountain biking and share my love for bikes. I started coaching at our local camp for kids that rip and soon discovered I had a knack for teaching. I realized coaching was the obvious choice to help spread the Church of Shred.
CHRIS SKOLNICK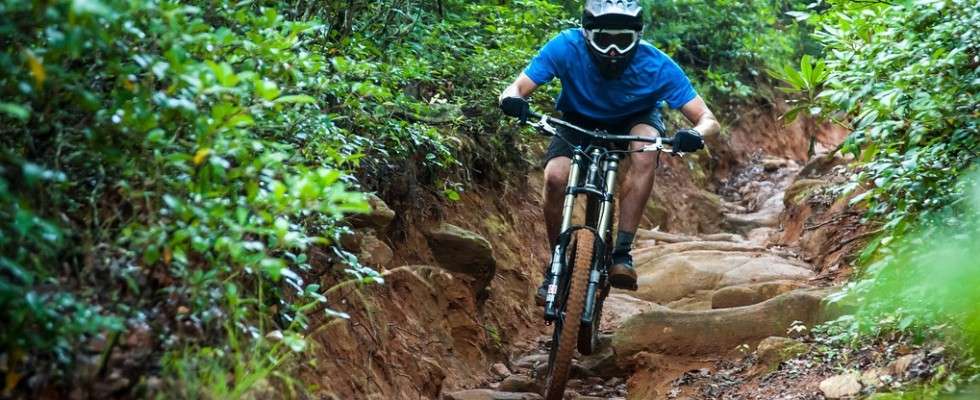 Chris' BetterRide journey first began as a student of Gene's where it was clear that he had not just a passion for mountain biking and improving as a rider, but also a strong desire to help others and share what he has learned over 15 years riding mountain bikes.
From student to assistant for both Gene and head coach Andy, Chris easily transitioned into the role of a certified Betteride Coach and is our go-to- guy for our camps in the Southeast region. He is finding that he grows more fond of the culture, people and especially the riding every day. With a solid grasp of the Betterride curriculum, Chris' coaching style puts a heavy focus on goal setting, visualization and understanding of proper muscle recruitment to help you excel on the trails and within your practice.
He also brings to Betterride over 10 years working in the cycling industry. His knowledge of both past and current equipment trends in mountain biking is extensive. He is an experienced bike-fitter, a published mountain bike product-reviewer and a certified Wilderness First Responder/CPR & AED provider. In addition to coaching for Betterride Chris is a full time technician/service manager for Suspension Experts, an Asheville based specialty shop whose sole focus is on the service, set-up and tuning of mountain bike forks and shocks.
Dabbling in all disciplines including knobby riding-dirt jumping, trials, street, trails and lift-access, Chris is currently racing Category 1 downhill with the goal of earning a Pro license by the end of the 2014 racing season and while he is still relatively fearless on a bicycle.
He thinks a well designed single pivot full-suspension is still a great ride, often wears lycra while riding flat pedals (sorry Gene!), has a 29er kicking around somewhere, he thinks and knows he needs to stretch his hamstrings daily, but always seems to forget. When he is not practicing the core skills, studying and researching coaching methods to continue to grow as a coach, or on a trail getting loose and fast, he is probably drinking coffee…And thinking of the core skills, working on his coaching methods and trying to decide exactly what trail he wants to go get loose and fast on later that day.