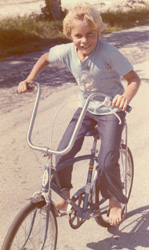 Jeff Ferrell – Certified Coach
D.O.B: 1965
Resides: Bend, OR.
Favorite Trail: So far, the McKenzie River Trail. North Fork, Happy Valley, Flagline area in Bend is pretty sweet riding.
Ipod: If I owned one, rock from AC/DC to Zeppelin.
I grew up in South Florida and my first new bike was a Schwinn Stingray, I got for Christmas in 1971. I outgrew that bike and terrorized the urban strip malls and neighborhoods on homemade bmx bikes and skateboards. It was different back then as we went everywhere on our bikes and boards, our parents never dropped us off at football practice or the movies. Once cars and driving came into the picture the bikes and skateboards sadly went away. Fast forward to 2005, we moved to Bend and one of my very first purchases was a 05 Giant Trance 2 and mountain biking has been my thing since. I got fairly good from riding a lot but it wasn't until I took a BetterRide camp and got hooked in with James Wilson that things really progressed for me and became a true student of the sport. When Gene offered to be a coach for him locally I jumped at the opportunity and have had a blast. I ride on a regular basis with people I've coached and I love seeing how fast they progress with the proper skills and knowledge. I would say my current style is trail to light all mountain riding, I pedal up everything I go down, I enjoy the challenge of climbing but I really look forward to descending. I've also been in the construction industry for 23 years.