On the way home from Fruita filled with mixed emotions.  I have always thought mountain bikers were smart, environmentally friendly people. My friends that ride and students all seem to be great people but there are some selfish mountain bikers out there that seem to only care about themselves.  There are two spots on Rustlers Loop and one on Prime Cut where mountain bikers have gone out of there way to harm a 200 year old (on Prime Cut) and a couple of 100 year old trees (on Rustlers) just so they can ride a section with more ease!  Dumbing down trails is bad enough but harm trees and the desert to do so?! Wow! Please follow the IMBA rules of the trail and walk over (not around) sections of trail you cannot ride.
For the first 10-12 years of Prime Cut there was a rock you had to go over in the middle of the trail, it was a trail feature that greatly added to the fun and challenge of the trail.  Here is a photo of one of my students riding down it about 5 years ago: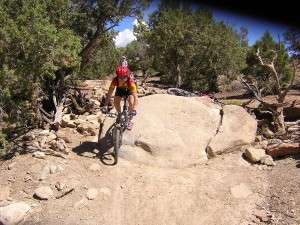 Notice the rocks carefully piled to broke off the go around and protect the 200 year old Juniper Tree.  Sometime around 2005 a local rider went so far as too bailing wire in a huge pile of rocks, metal stakes and tree limbs to protect the tree.  It was a constant battle, locals putting rocks/sticks in to save the tree someone/s spending hours tearing out our work that very evening/morning so their precious ego isn't damaged when they can't ride the rock.
The shots above were taken yesterday.  In addition to breaking off a couple of limbs someone even sawed off a limb!  What a selfish and sad act.
Now look at that rock, it isn't that hard, I had a 63 year old rider in my camp go up it on Saturday and Sunday. I watched a 67 year old man clean it in a camp 5 years ago and you know what he told me two years ago?  He walked up to me while I was teaching at Mary's Loop parking lot and said, "hi Gene, I don't know if you remember me but three years ago I took a camp from you and you said I was the oldest person you had witnessed ride over that rock on Prime Cut" to which I replied, "yeah! I remember! you were 67! that was so cool!".  He then said, "well, I just wanted to tell you, I did it again yesterday".  He did it at 70!  I can't tell you how many studly guys I have seen not clear that rock, make excuses and decline instruction of how to do it! Too funny!  If you are under 40, in shape and call yourself a mountain biker you should be able to clear an obstacle that a 70 year old and clear.  If you can't I would love to help as would many of my students.
I hate to post such a negative post but this is sad and must be stopped!