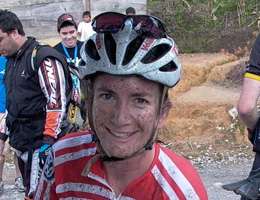 Sue Haywood – Certified Coach, Mountain Bike Racing Legend
Sue started riding mountain bikes in the wild woods of West Virginia in 1991.  She did her first beginner race that year, finishing second, out of two in the beginner class. Even though she was not very good, she enjoyed it.  She went on to race the West Virginia Series (WMBA) for the next seven years and eventually turned pro in 1998.  In 1999, she became a member of the Trek/Volkswagon Racing Team with distinguished teammates like, Alison Sydor, Roland Greene, Travis Browne and Wade Bootes.  Her career highlights include, 3 Short Track National Championships, A Super D National Championship, 2 World Cup Podiums, 1 24hr Solo World Championship, Winner of La Ruta, Trans Rockies, Pisgah Mt. Stage Race and the Shenandoah 100.
She now considers herself a recreational pro, dabbing in select races that she thinks are cool and special.  She brings to BetterRide, years of racing along with training and teaching experience.  She loves to ride big rocks and wet roots on an epic day.  But, She also loves seeing students gain confidence in their riding abilities and having lots of fun learning new skills.