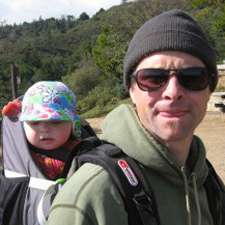 Dylan Renn – Certified Coach
D.O.B: September 4, 1977
Home County: Calaveras, CA
Resides: Woodacre, CA
Music: Primus, Hilltop Hoods, Salmonella Dub, Deadmau5
Favorite Trail: Oddenn to The Ring And LOKI
Growing up in the Sierra Nevada mountains meant learning to ride a bike with training wheels on a dirt road. With the rough pot holed roads and technical terrain the training wheels were forced to come off quick. It was at that point as a young kid that I fell in love with riding. Living in a fairly remote mountain community I spent endless hours entertaining myself by exploring every nook and cranny of  my back woods via bike.
After those first years of riding 20" bikes I moved on to a geared 24". I worked at a bike shop when I was 12 years old, saved all my money and  purchased my first mountain bike.
It was a full rigid with toe clips and of course, a neon color scheme. It was all DOWNHILL after that.
My athletic history started with having to ski in and out of my house to get to and from school. From there I started to compete in Nordic ski races in the winter and cross country running in the summer. Through High school I raced in both disciplines. My favorite and strongest event was the Biathlon, which I had a ranking of seventh in the nation.
Some time during High School I found out about gravity, started Telemark skiing, and began racing Downhill mountain biking. I competed in DH as an expert until around 2000, then upgraded to Semi-Pro. Upgraded to Pro in 2008, and slowly phased away from racing due to a few injuries and a growing family. I am planning to race again.
I have worked coaching Alpine Skiing  DEVO (development) Team and also as a Nordic ski Instructor. Right now I work as a mechanic at a local Bike Shop, and build trails in my free time for both work and leisure. Oh yeah , saving best for last, I expend much of my energy and time chasing after my 1 year old Daughter, Naia.