First two emails from a students with some great photos and then some updates from all over the world!
Gene,
Here's a couple of pictures that I mentioned I would send from Joe and my trip to Moab two weeks after our Palo Alto camp.  The first one, hopefully, is demonstrating the uphill body position, and the second one shows me looking way ahead.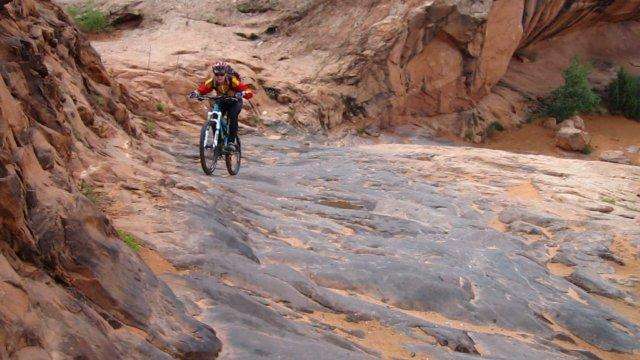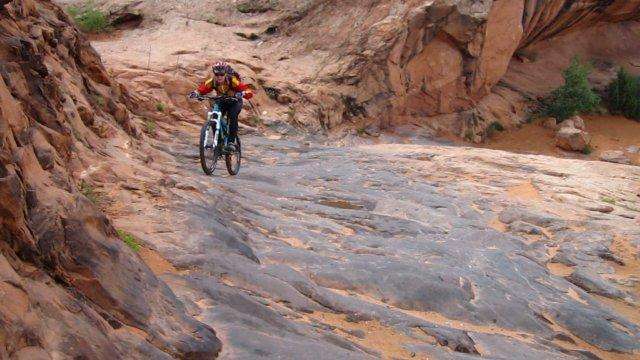 And here's a link to a short video that was taken on the Sovereign Trail.  Notice how I do a little pedal wheelie on the second rise of the rock!
http://youtu.be/lHFPQ7pKuvc
Thanks again for the camp.  I recently road a local trail in Auburn that I
hadn't yet ridden since the camp and I rode the downhill sections faster and
in more control than ever!  Pretty cool.

Cymantha Fredrickson
Hey Gene,
Saw the pic you posted from NJ. Looks like a great turn out. Matt and I finished 24 hours in the canyon at Amarillo TX. Yesterday  We won first place in the 2 man 24 hr Category. I think we finished out with 21 laps.  My ride went well need more time with night riding. That 3am lap was tough to get started. It was a blast met some great guys from Austin. Next race in two weeks in the Enchanted Forest near Gallup. Never been out there but the guys from bike works say it's great riding. Talk with you later take care. Rick  (Rick is 6'8″ and just started mtbing this winter! He decided to master the basics first my taking 4 camps this winter and it seems to be paying off as he now rides many sections of trails much more experienced riders can't and he is winning races against much more experienced riders (and being 6'8″ and over 240lbs he isn't winning on fitness alone!)
Mitch Ropelato won the US Open GS, earned 11th in the downhill and then went to the World Cup in Scotland and took 47th in the DH! Not bad for a 19 year old!
At the same races Pan American Champion Jackie Harmony took 3rd in the GS and 4th in the Downhill!
Meanwhile at the Chile Challenge in Angelfire, NM BetterRides also did quite well.
Gene,
Just thought I would let you know I won my Cat 2 age group at the Angel Fire XC today.  Half the course was downhill and I am sure that your instruction last week helped get me down the mountain in first place . . . I kept saying "look" to myself to remember to look through the corners.
thanks for the help.

Philip Hantel
In the Downhill, BetterRiders were all over the top 20! Joey Schusler took 3rd, Brian Buell was 5th, Trevor Trinkino was 7th, Naish Ulmer 9th, Andy Proctor 14th, Jon Widen 16th and Sam Stevens 17th
Congratulations to all the Betteriders out there exceeding their goals!