As you may have read in my mini-course the correct descending body position involves standing and staying centered with your weight on the pedals (not getting way back), legs relaxed and bent (not squeezing your seat) and arms bent in a half push-up position.  Remember, I didn't invent these skills I have been fortunate enough to learn from the best (World Champions Marla Streb, Greg Minnaar, etc.) and learn from the great riders that I coach (Ross Schnell, Mitch Ropelato, etc.).  I am simply passing on what I have learned.
New Video!

In these videos taken by a student in my Philly mountain bike camp a few years ago you can really see one huge reason (there are many) why centered is good and getting back is bad.
In this how to mountain bike video, it shows me riding off a curb with my weight back and arms extended. Notice how I get "pitched forward" as my arms are yanked down the curb.  Also notice how my entire body weight drops the same height as the curb, Ker plunk! Imagine if the obstacle was a little bigger and I was on steep hill! Imagine how much worse this would of been if I was  squeezing the seat with my thighs. Have you ever had the feeling of being pitched forward on a descent?  
In this video,  I am centered on my mountain bike with all my weight on my pedals and my arms bent, ready to extend my arms and legs so my entire weight doesn't drop off the curb. I simply extend my arms and then my legs and the bulk of my weight (from my hips up) just keeps moving forward on the same plane. This is a much smoother, in control and in balance way to descend. Again, imagine if it was a steep hill and bigger drop.
Here is a shot of me staying centered on a much bigger drop in Moab in 2004.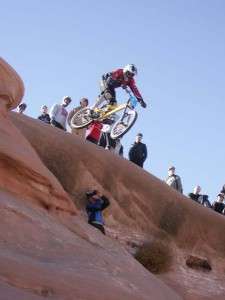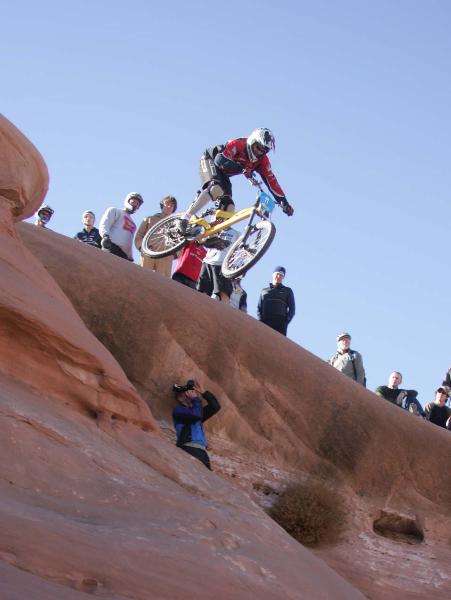 Gene with Weight centered!
Now go out and do the same two drills yourself and compare the results!